The 2023 HMS Hood Commemoration Service will take place at St John's Church Boldre at 11:00 on Sunday 28th May

HMS Hood Service of Commemoration 2023 Order of Service

HMS Hood, the largest and most iconic British warship of its time, was sunk in a battle with the German battleship BISMARCK on 24 May 1941 with the loss of all but three of her ship's company of 1,418. The officer in overall command Vice Admiral Lancelot Holland, who was amongst those lost, used to worship in St John's Church Boldre Church with his family. After the war, his widow Phyllis Holland arranged for a memorial to be established at Boldre where an annual service of commemoration has been held ever since.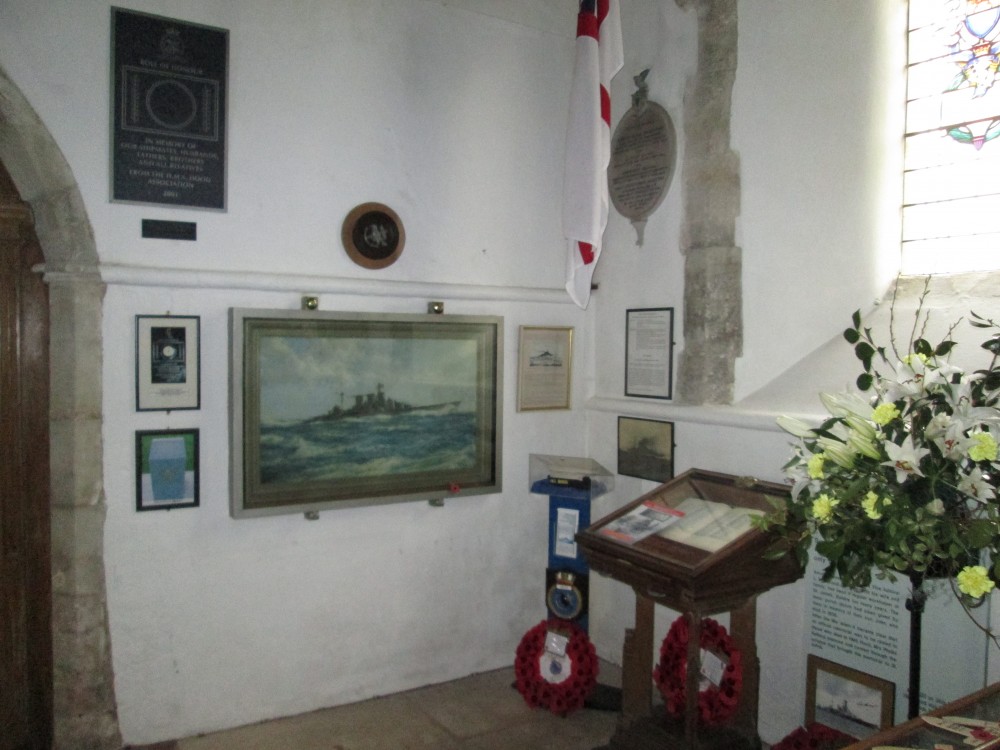 The Memorial comprises the illustrated Book of Remembrance listing the 1,415 crew members who died on 24 May 1941, the small stained glass window of St Nicholas above the main entrance in the porch, two carved wooden benches and two Vice Admiral's lanterns in the porch, eleven altar rail kneelers in the North Chapel. Subsequent additions include the oil painting of HMS Hood by the artist Montagu Dawson and donated by him in 1972, a display cabinet containing models of Hood and Bismarck, and the artist's original moulding of the zinc memorial plaque laid on the wreck of HMS Hood in 2001.
Phyllis Holland moved to St Thomas's Park, Lymington during the last years of her life. She died in 1983 and is buried at St John's Church where there is a memorial stone which commemorates her life and that of her husband Vice Admiral Holland, their son John Douglas Holland, and her mother Margaret Childe.
Much more information on The Hood is available from the H.M.S Hood Assocation http://www.hmshood.com/